Ongoing projects:

Our UGP charity programme!
We want to provide a part of our gains from the snouts shop. This part will be donated to different aid organizations for guinea pigs. Aslan and Enzo are the ambassadors for some of these projects.
Raffi, our reporter, will introduce these aid organizations. Here you find some more information about it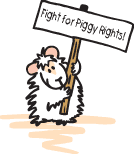 Planned projects:

Our big huge guinea pig guide for humans!
Right now we are working on our big huge guide about guinea pig husbandry and health care.
Dr. Schnee-Witte is going to provide information about the most common diseases. Whoopi will provide lots of information about recreational activities.
Odin will tell you everything about alternative cage building.
Locke wants to enlighten you about appropriate piggy nutrition.

Contests!
Luc is planning the picture contest "Best Buddies" to show that piggies should always live with some buddy.
Odin is going to set up a big contest in cage building.

This is just the beginning. We want to do a lot more. If you want to be informed about it, just become a "fellow piggy"